Partnerships
Hey everyone,
We've launched some amazing iPhone apps over the past few weeks with some great companies. This is something you will see from us from time to time. We are dedicated to bringing you the best travel tools for your phone and sometimes that means working with incredible companies who have created really cool services for travelers.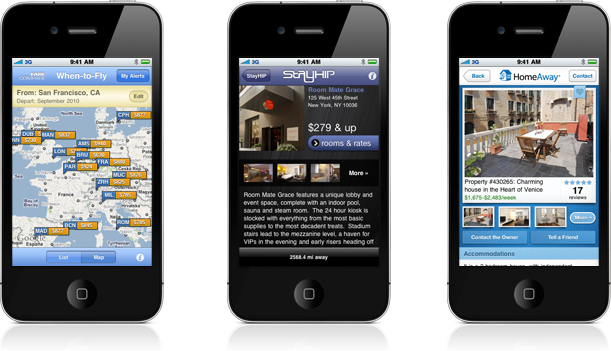 The app that just came out last week is called FareCompare When-to-Fly Airfare Alerts and utilizes the FareCompare service to get you the best airfare travel deals possible. You can set alerts and get real-time info as airline prices drop on your favorite routes. It's such a cool app because it lets people get instant access to amazing deals. To quote FareCompare CEO Rick Seaney, "You can't carry your desktop in your pocket." And that's why the app is so amazing – it takes advantage of mobile. We've all signed up for alerts for our favorite routes and we hope you do, too. If you see us fumbling with our phones, we might not be checking emails – we might be booking a flight to Italy.
The other app we put out with a partner is the HomeAway – Vacation Rental Search app. HomeAway has over 230,000 properties in their database including properties all over the world. Vacation rentals are a great alternative for travelers who want more amenities and space for their money. We're really excited by how easy it is to browse the properties, look at the pics, check out reviews and read detailed descriptions about the place. As we were developing the app, we would show each other pics and say things like, "Check out that hot tub!" We love how the app has a way of getting people excited about travel. We're eyeing a few properties in the app - especially the beach ones. We think a big house by the beach with Wi-Fi might be a good way to get Team Mobiata together for a Q4 meeting.
We also put out an app with TRAVELCLICK™, the leading provider for ecommerce solutions for hotels, a few months ago. The app, StayHIP, has done really well and was even picked as one of the best travel apps of the year by Travel + Leisure magazine. If you haven't checked it out, it's a free search and book app for boutique hotels. The hotels are chic, swanky and the full screen pics shows them off in all their glory
We hope you'll have a chance to download these apps and use them to book your next trip. We think they are pretty awesome and should give you more tools to make traveling easy and fun.
Let us know what you think and stay tuned for some really cool new apps in the very near future as well as some pretty amazing new features in FlightTrack, Flighttrack Pro, HotelPal and TripDeck. We've got a lot in store for you.
Thanks, everyone.